The pastor: a crucial advocate for missions
By Pastor Azaki Nash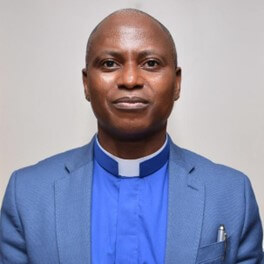 Missions has been described as God's heartbeat. God's redemptive purpose fulfilled in Christ Jesus and propagated by the Apostles remains the Church's task till Christ returns. When a church understands this, everything changes. Herein lies the responsibility and privilege of pastors to ensure that their churches are mission-oriented.
The pastor's role in forming vibrant, mission-minded churches cannot be overemphasized. Our role as pastors grants us a unique authority and influence in directing the congregation's priority towards missions. This requires us to have both passion and a clear strategy for promoting local and foreign missions. When the congregation sees the pastor consumed with this mindset, it will overflow into their involvement in becoming a mission sponsoring and sending church.
Furthermore, pastors should utilize their leadership platforms to deliberately mobilize and sensitize congregants. Let me give examples of what we have done to increase missions' support and engagement in my church.
In the year 2020, during the pandemic, my church was sponsoring 100 local missionary couples serving with the Evangelical Missionary Society (EMS) of ECWA. Additionally, we extended one-time support to other missionary organizations and churches. This was possible because the pastor whom I succeeded had a heart for missions.
Upon assuming duty as the new senior pastor, I was determined to build upon this legacy by scaling up our missions commitment. It was not difficult to get the congregation's cooperation to increase from 100 to 125 missionaries in 2021. We also sensitized the congregation on the SIM North-East Nigeria Project, resulting in substantial financial and prayer commitment. Similarly, the congregation agreed with my proposal to partner in foreign missions with SIM medical ministry in Monrovia, Liberia.
The bottom line is that my church, ECWA Wuse II Abuja, Nigeria, is on mission because successive pastors placed a premium on missions. As the pastor thinks and speaks missions, the congregation learns to participate actively in God's mission. Every church should have this approach.
I must highlight that mobilization for foreign missions can be tricky compared to local missions. If a national currency compares weakly with the dollar, what appears a substantial amount becomes devalued when converted for the foreign field.
The rational solution is to increase the measure of support, say by doubling what is due a local missionary.
The foregoing demonstrates that pastors have to acquaint themselves with real missionary stories, prayer needs and challenges. Armed with relevant information, it behoves them to enlighten the congregation on the need to get involved in missions.
As stewards of God's resources, pastors are also responsible to judiciously apply resources with spiritual sensitivity to where the Holy Spirit is leading (Eph. 1:17-18).
In addition to voting substantial resources for missions, it is incumbent on pastors to be good advocates for missions and missionaries. We can deliberately use our Sunday worship services to provide periodic updates on missions.
Every pastor who will be effective in promoting missions must divest personal interests away, even when the leadership team is reluctant to spend more on the missionary than on their pastor. These are some bottlenecks I had to overcome in sending 25 more local missionaries and getting the church to partner a foreign mission in Liberia.
Beyond financial, material, and human resources, there is one resource that every missionary enterprise cherishes—the prayers of the saints. Pastors should garner regular prayers for missions. Prayer can be difficult, but it is the duty of pastors to transform churches into praying congregations without ceasing.
The pulpit presents a strategic opportunity to challenge congregants to live on mission for Christ. When pastors faithfully preach the Word and teach members to reach the lost, the church will be populated with believers who are mission-minded. This has been our experience.
In conclusion, I invite my fellow pastors to develop unalloyed passion for missions, so that our churches will be ignited to go into all the nations with the gospel of Jesus Christ. Our calling as pastors is a privilege for which we shall give an account at the appearing of our master. Hence, I appeal to all pastors to work at building healthy and thriving congregations that are purposeful in extending the frontiers of missions locally and internationally — for the glory of Christ who has set us apart and enlisted us into His end-time mission (2 Cor. 5:19-20).
Azaki Nash is a consummate campus minister, prolific writer, pastor, and missiologist. His ministerial training includes a post-graduate Diploma of Theology (PGDTh), Master of Divinity (MDiv), M.A. in Organizational Leadership and Management, and a PhD in Missiology. He is the Senior Pastor of ECWA Wuse II Abuja, Nigeria. He is married with two children.
Other articles and resources from around the web on this topic: