Phase ministry: a refuge for missionaries
By Kate Azumah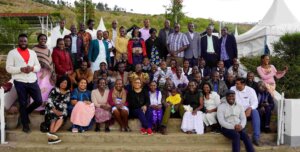 For someone with a sheltered profession in the field of finance, Ricky Kalu's transition was drastic and unexpected. It started with a strong conviction that the Lord wanted him on precarious frontlines with missionaries and pastors serving in volatile regions. Ten years on, that conviction has evolved into Pastors' Health Awareness Support and Empowerment or PHASE, a ministry offering God's balm of healing, deliverance, and restoration to hurting missionaries and church leaders.
"Between 2012 and 2014, we hosted conferences in South Africa to raise awareness on ministry hazards resulting in early ministry exit. However, the conferences proved to be too academic in nature. We were persuaded by the more urgent need to reach the most vulnerable Christian ministers in Africa."
When Ricky first had the conviction, he prayed about it with his wife, and towards the end of 2014, he received clear guidance through dreams and visions about places of violence he needed to visit. He travelled to bombing sites in Kenya to understand the state of Christian ministers in those places.
"I met with various people across Kenya who verified that their country was facing a growing enemy in extremism. The Church was on the frontlines assisting affected communities, but the leaders championing this help were left traumatized and without adequate care." The outcome of Ricky's observation was the PHASE Missions Assistance Programme (P-MAP).
PHASE partnered with Great Commission Support, a member care organization in Kenya. They organized a team of speakers and care-givers from South Africa, and invited 100 to 200 missionaries for debriefing and healing ministry in Nairobi in 2023. "We use a combination of member care principles, but we also expect God Himself to heal and answer their questions. Some of their trauma cannot be handled in a short time, so we look to God as the primary care-giver."
Ricky affirms that God has been faithful, and they have witnessed testimonies of physical and emotional healing, deliverance, and miracles by the Holy Spirit's ministry. Some on the brink of leaving the field were helped and restored. PHASE also provides a safe house where missionaries go to recover when they need longer-term interventions or short periods of required rest.
Some on the brink of leaving the field were restored.
"After emotional brokenness, the greatest needs in the mission field are a lack of both adequate financial support and the most basic need for belonging. Many indigenous missionaries are not recognized as legitimate full-time church workers. Even in cases where they are sent by a local church, they are expected to financially and spiritually fend for themselves and their families. Many churches can afford to support them but don't see it as their direct mandate. Some churches have within their radius abandoned missionaries, but will not help them with food or basic care."
Ricky explains PHASE's motivation: "We believe this is an area that hurts God's heart as a Father. He is the one wanting to reach them through us. Healing presses the 'reset' button in people's ministries. We still have so many to reach."
PHASE provides services free of charge, and caters transportation for the missionaries to travel from various locations to access them. "We want to be a blessing, not a burden," Ricky shares. "We have a few committed donors who support what we do. We provide regular reports as well as consistent verbal updates to major sponsors. It is important that they see and hear the results. We also believe in integrating our financial supporters into our intercession or planning teams. It's prayer first where we need the greater sacrifice, and then finance."
Ricky's sentiments should spur local churches to rise up in support of missionaries. He concludes, "It will be a great symbol of a maturing Body of Christ in Africa."
Visit PHASE Ministry at www.phase.org.za.
Photo:  Missionary Delegates at a PHASE conference in Nakuru, Kenya
Other articles and resources from around the web on this topic: