15 new house churches for Pakistan
By AfriGO Team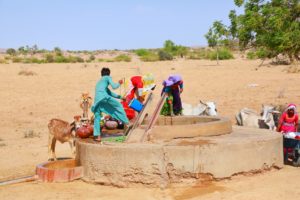 Sent from Ethiopia, Zeleke and Kebebush and their children serve in Pakistan, with a passion for the lost and the poorest of the poor.
They have been pouring their time into reaching out to an impoverished rural community. After engaging the help of the local church, Zeleke started to make contact with the people. Twice a week he travelled 20 kilometres in order to reach a group who had never heard the gospel. Kebebush started a women's Bible study. She and the local women spent time cooking together, and sharing life and the gospel of Christ over cups of tea. The couple's children have taken opportunities to share their faith with school friends. Once God opened the door for Zeleke to speak at the school opening programme.  All who attended heard the good news, and many were influenced by it.
During the past four years, the Spirit of God has moved mightily through Zeleke and his family, through healing, deliverance and teaching. This has resulted in 15 house churches and 20 evangelism centres.  Giving their all, they have served in one of the world's most challenging mission fields. As a result of accepting this privilege, they have seen amazing answers to prayer: 1,000 people heard the gospel, and 385 received the good news of Jesus. Forty-eight people were baptised after follow-up teaching, and 78 backslidden Christians repented and returned to the Lord.
SIM's East African Office and the Ethiopian Kale Heywet Church work hand in hand to respond to God's voice, sending out those who say, "Here am I, send me".
Other articles and resources from around the web on this topic: