A vision received, a vision passed on: the birth of EMS of ECWA
By Rev. Panya Baba. Reviewed by Joseph Paolo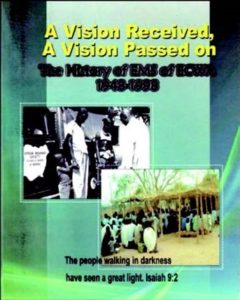 This book's plot is like the parable of the  mustard seed: a very small thing grows to become something very big. It all begins with a sister in the Lord who has a heart for the lost in inland Africa. Through her prayers, the missions organization SIM is founded; almost 60 years later in 1948, Nigeria's  first indigenous mission, EMS, is born.
The author, Rev. Panya Baba, has been described as one of the fathers of modern African missions and the "greatest missiologist of the ECWA" (Evangelical Church Winning All) denomination.
From 1970 to 1988, he led EMS, which today has a workforce of about 4,000 missionaries.
Like missionary work anywhere, the work described is not without hardships,  pain, suffering and even death. These trials characterized the first wave of missionary endeavors in Nigeria. However, much joy came with the first fruit and growth.
This is a relatively easy read. If you like the brevity of Mark's Gospel, you will find this book enjoyable. The author provides enough detail to move you along the first five decades of the founding of EMS. The book is organized logically, and the chapters follow a similar structure: what is happening, the challenges, actions, and outcomes. The author is honest in reporting occasional conflicts between workers and how these were settled.
The book closes with an admonition for those in the field and also at home: "The most important lesson was to depend more on the Holy Spirit for direction…. Without His direction, the work would be in vain."
If you want to know what happens behind the scenes in founding a mission agency, this book provides insight into that. It will open your eyes to many ways you can participate in the Great Commission.
For the would-be missionary, this book provides a plethora of examples of servants of the Lord who have served sacrificially.
Pick up this book if you want to learn what God has done and is doing in response to prayer of ordinary people just like yourself. Find it as an e-book here .
Other articles and resources from around the web on this topic: