Book review: The Church
By Aggrey D. Mugisha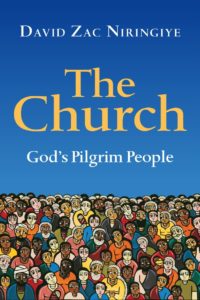 Written by the Rev. Dr. David Zac Niringiye, this book is a reflection on the state of the Church globally from the perspective of an African theologian, pastor, civic-political activist and missionary.
Niringiye is a restless thinker pushing us to consider questioning long-held views about the Church, its practice and structures. He challenges concepts such as "a sending church," the kind of language we find in today's missionary enterprise. As a Bible scholar, Niringiye explains passages of Scripture to help the reader reflect on what we experience as the Church today.
The book is full of anecdotes from his almost four decades of ministry across the globe. Niringiye is a natural storyteller, and makes the complex theological themes of the Church meaningful to readers. He takes us from his home country of Uganda to Rwanda, the UK, Australia, Kenya and Israel.
He does not shy away from difficult subjects, such as today's relationship between Jewish followers and the Church. Niringiye points to Hebrews 11 and 12, joining both streams of the people of God, and – if the Lord tarries – future generations. The promise given to Abraham plays out in the formation of the kingdom of Israel in the Old Testament. The author takes the reader through that long history to the coming of Jesus and birth of the Church. He acknowledges the high position of the Holy Spirit as the One who energizes the Church to fulfil its mission.
Niringiye challenges studies that teach that the Old Testament has nothing to teach Christians about becoming Church. He urges readers to consider all the Scriptures in the quest to understand what it means to become Church. The Church is a community of faith, the author argues, and lives in communion with Abraham, Isaac, Jacob and Moses. Critical to this belief is the concept of pilgrimage with God that faces the temptation to domesticate the promise.
This book further clarifies the difference between the kingdom of God and the Church, emphasizing the need for today's Church to exhibit true koinonia, a word taken from Greek which refers to authentic Christian communion and fellowship. Given what we see around the world, that characteristic of God's pilgrim people is lacking and is gospel communities need to work towards it.
The Church: God's Pilgrim People reminds readers of Christian communities that are experiencing persecution and suffering. Inspiring anecdotes help us grasp how contemporary Christians live as witnesses in these places. Available on Amazon.
Published by InterVarsity Press, 2015
Reviewed by Aggrey D. Mugisha, a Uganda-based Communications and Management Consultant
Other articles and resources from around the web on this topic: