One nurse's journey into missions
By AfriGO Team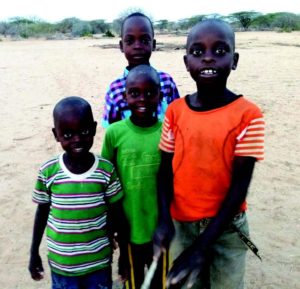 Bella Were found the remote hospital building in Garissa, Kenya, totally empty. Its vacant corridors had no patients for there were no doctors, no staff and no supplies to run it after a government programme had built it. But Bella, a nurse and intrepid young missionary, did not see an empty building; she saw a ministry opportunity. So Bella moved in, making her simple home in one of its many rooms. She approached the local government who gave her some supplies to begin. She lived very simply, drawing water from a borehole and electricity from solar panels.
Her outreach took the form of praying for the patients who came to her, and she often invited young people to watch the Jesus Film with her and discuss spiritual things.
In spite of her efforts to stay in touch with her church and friends (when she could buy data and re-charge her phone), their love and care from a distance could not replace a sense of loneliness that grew every passing day.
Her tiny 'salary', if you call it that, came from friends back in Nairobi who believed in her missionary call and supported her. But no support in prayer or finances came from her family.
Bella was raised in a family dedicated to Islam. She was so immersed in Islamic doctrine that her first encounter with Christianity during her final year of primary school was a struggle. Her refutation of the gospel message through a school teacher continued into her years in high school. Though the gospel was preached, Bella assured herself with the thought, "I have no big sin. I'm a good person."
God continued to use faithful witnesses to woo Bella. In high school, her peers who were devoted and committed to Jesus Christ challenged her, and she found herself desiring more of the Lord, which led her into Bible studies with them. During a weekend getaway, she surrendered her life to Christ!
In university, Bella's faith continued to grow through Christian Union. A year after graduation, her missionary friend invited her to visit the mission field. Bella spent two weeks in a village doing medical ministry. The Lord used this experience to call her into missions.
In this way, she came to live in the government hospital in Garissa, in the general area where she had visited her missionary friend. The town had no church and no Christians for fellowship. She knew friends who were with agencies and they seemed to have something she was beginning to want: a ministry family who would provide her that feeling of "we are in this together!"
Bella prayerfully began to explore joining an agency. She soon chose CAPRO, an interdenominational mission founded in Nigeria and now in over 40 countries. She joined their 40 workers in Kenya and has served under their umbrella for three years.
Bella shared some of the benefits she has found in joining an agency:
They rarely allow you to go out alone. They mandate ministry in teams.
They require and provide preparation, so you know what you will do and what to expect.
They keep in touch with the outside world while you are in a remote assignment. You may have no internet, no data and no phone charge. But they are a bridge. At times they also bring in more partners, through their networks and events.
They listen to your vision and build you up in that direction because they have wisdom and experience. They help determine next steps, give advice, recommend trainings and help to upskill you. They add value to the vision you bring to them.
They help monitor your progress. They remind you of your goals – for example, are you still progressing in language learning? This helps you not to settle into the mundane routines of ministry life.
They provide member care, debriefing you when you come out for breaks and when you transition back in.
They provide mentors who have gone ahead and will help you along.

Other articles and resources from around the web on this topic: