Mobile money: from their hands to yours
By AfriGO Team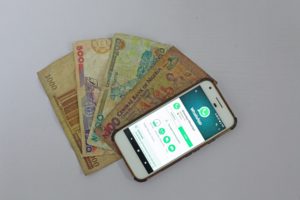 Across Africa, the use of paper money is decreasing while electronic transfers are increasing. The AfriGO team reached out to people from South Africa to Ghana, from Rwanda to Botswana, and found that every region has different systems and preferred apps for moving money.
Some purchase cell phone airtime and convert it to payments, others use banking apps and work from their bank accounts; still others use international companies such as World Remit or Mukuru Money Transfer.
What to use? There's no wrong answer, as long as the sender and the receiver agree on what they refer, and the transfers are done safely. Most transfers are foolproof, provided that one types in the right numbers and confirms who is the recipient. For missionaries and missions, however, a few more steps should be taken to increase donor confidence.
Always acknowledge receipt of funds immediately, even if it is just a short message.
At the time, or shortly after, reach out to the donor by phone, message or email to thank them for their gift, and be sure to mention if the gift is to be used for a specific need. Donors appreciate knowing they have been part of the ministry.
If the donor requests that their gift be used for a particular need, be sure to use it in that way, unless you ask their permission. It is likely that a donor will be glad to see their money going to help a missionary travel for medical care rather than buy Sunday School materials, but they will be disappointed if they find out later the funds were diverted, and  less likely to give in future.
Lastly, take steps to secure your phone with passwords and PINs, and do not keep this information where it can be accessed by others. Your donor will not be pleased to receive deceptive requests for money from the thief who robbed your phone, nor garbled messages from your small child who is playing with it.
Other articles and resources from around the web on this topic: