Goats and garlic for the Gospel
By Kate Azumah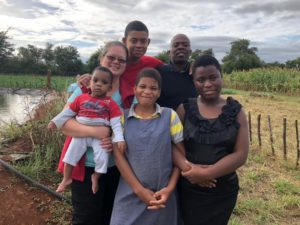 "Purple Horizon is the name of our farm. 'Purple' refers in part, to a special tree that turns purple every October, and its significance as a place of prayer. It also represents the royalty and majesty of the Lord Jesus. 'Horizon' refers to the endless possibilities for Africans engaging in the Lord's work as well as the millions waiting for the gospel."
For the past seven years, Sipho and Amanda Moyo have been doing farming and mobilization with ACTS13/WEC International. They enjoy a cross-cultural marriage and reside in Sipho's hometown of Kwekwe, Zimbabwe.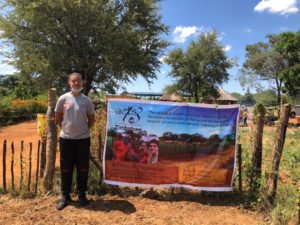 Sipho is a pastor, a role which connects him with other pastors, thereby opening doors into churches. Although their home church is Kwekwe Central Baptist, the Moyos mobilize for other denominations too. The Baptist Union of Zimbabwe recognizes them as mission leaders, and they are helping to raise mission awareness with the Assemblies of God. Their mobilization team is formed of pastor friends. "Pastors connecting to pastors opens doors into churches since people consider the role of missionaries a bit foreign," the Moyos profer.
Purple Horizon is strategic for the Moyos' mission mobilization efforts. "We see the farm as a place for preparing the Church for cross-cultural missions, preparing individual mission workers, and preparing pathways for creative gospel opportunities." [callout]
Garlic, goats and more
The Moyos admit the temptation to grow everything; however, the Lord led them to grow garlic and raise goats as their primary industries. Garlic is a specialty crop and has great potential for making money. To keep it free from pests and diseases, they rotate it with butternuts and sugar beans. They also cultivate maize, sorghum, sunflower and peanuts. The goats are perfect for the thorny brush around, and they have a small chicken project and fish farm nearby.
Amanda explains, "1 Thess. 4:11-12 has motivated us to lead a quiet life and to work with our hands so that we walk properly towards those who are outside and that we may lack nothing. We believe the farm will one day sustain us and other gospel workers going out of Zimbabwe." In the meantime the Moyos are harnessing all available opportunities to make their farm serve God in missions mobilization and training.
They have trained outgoing workers with agricultural skills, who in turn have set up similar sites at their mission bases in Kenya and Nigeria. Others have taken what they see at the farm and are copying the initiatives.  Many pastors have also visited and received a bigger vision of missions. Workers in training come for missions development and the Moyos impart the vision of working hard with one's own hands for God's glory.
"Mostly we sell locally, or give help to our community. It is an entry point for connecting and building relationships."
Purple Horizon has a support base of churches, family and friends to help with the work.
"Our garlic turned out well this year, but the market has not been strong. It has been discouraging to hold on to such a valuable crop." The Moyos had hoped to support missionaries through the profits, so it's hard that it hasn't sold. Nevertheless, they don't give up. "The Lord gave us the direction so we press on", they say, and offer the following advice:
Pray into your life, what you have in your hand and your environment. Start where you are.
Have a business idea and write down a detailed plan. It may change and adapt 100 times. Missions is about bringing others along, and if they see your plan on paper, they can trust you.
Be prepared to trust God. Plans may fail, but God doesn't. Making a profit takes time. Always serve and give and love.
Notice the lessons God will teach you about Himself, about yourself, about life, etc. They are valuable tools to help you gain wisdom and experience.
Sipho and Amanda Moyo, moyosinzim@gmail.com
Other articles and resources from around the web on this topic: