Book Review: New Funding Models for Global Mission
By Kate Azumah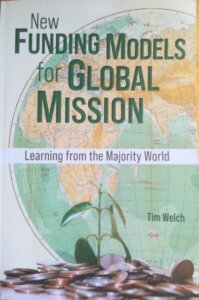 New Funding Models for Global Mission: Learning from the Majority World, by Tim Welch
Three phrases made me want to read Tim Welch's book: "funding models", "global mission" and "Majority World." As someone familiar with the financial challenges experienced by Africans in missions, I was eager to discover ideas and 'formulas' that would be game-changers in mission financing for Africa in particular. I came away with more than I expected.
Beyond offering practical ideas and success stories backed by findings from the author's research, I found the book well-stocked with scriptural expositions, and relevant analyses of the Majority World's economic realities. My key observation, however, was that adopting the models suggested will lead to a greater mission participation by the whole Church.
The author provides simple and effective ways for the Body of Christ to share in the funding demands, thereby affording more missionaries to be sent from the Majority World. Welch's book is relevant not only to all those already involved in mission; ordinary believers, irrespective of their occupational or economic standing, will find its contents an informative and helpful guide to contributing meaningfully to God's global mission.
I wish the book's research had also covered a study on the state of mission needs that are uniquely challenging to funding the Majority World. Nevertheless, I unreservedly recommend Welch's book as a timely resource for pastors, mission leaders, missionaries, and every believer.
Other articles and resources from around the web on this topic: